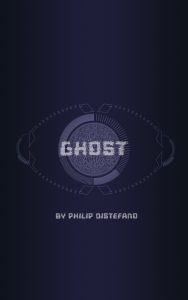 In between editing sessions of Reiterate (which is done, by the way, I just need to publish it), I was working on my first novella – a 110 page young adult cyberpunk story called Ghost. This story is something I would've loved to read as a teenager (and, to be honest, would still enjoy reading). I usually try to write for a broader audience, but this one is admittedly kind of niche, and as such, it's hard to say if the same people that enjoyed Iterate will also enjoy Ghost.
That said, Ghost was the most fun I've ever had writing something and is a story I'm excited to put out in the world, even if it won't reach the same audience. I came up with some concepts I'm super proud of, and if you're up for a fun, technology-fueled ride, I'd urge you to check it out.
I'll get a page up in the sidebar soon for Ghost, but in the meantime, you can find it on Amazon.